The buzz was well worth it! BHLDN has created a lovely, yet uncommon, line of gowns for the alternative bride. Many still carry with them the romantic feel of a traditional wedding gown while offering a whimsical twist for those brides looking for something unexpected. Here are three of our favorite dresses showing different styles, and for some, a new color palate.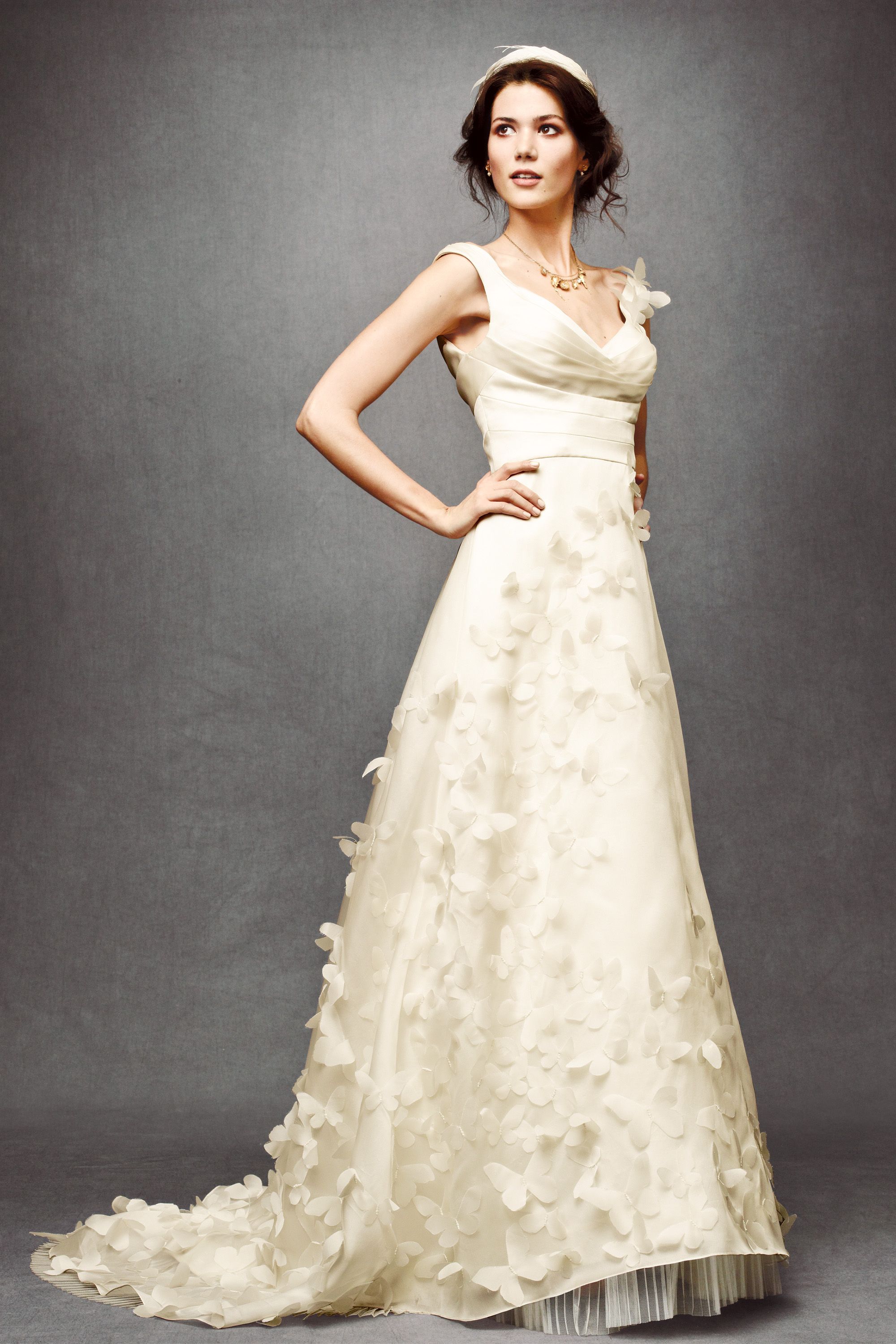 Courtesy of BHLDN
Our first gown, the Ethereal Monarch Gown, has a throng of appliquéd butterflies gently drifting down the organza dress. With straps, as opposed to the popular strapless style of today, it opens up into a simple A-line hem. At the base, a tulle hemline peeks out to say hello.  The BHLDN website describes it as, "Elegant folds at the bodice gently accentuate the bust and narrow the waist, for a fit that's flattering on all body types." This dress tends toward the higher end of the pricing scale at $3,200.
Courtesy of BHLDN
The Floral Artwork dress pictured above is another of our favorites. This playful and flirty tea length gown, with it's bubble skirt organza overlay, gives brides an alternative to the usual floor length gown. The silk dress also has hand-jeweled flower appliqués underneath, and is finished with an unlooped half-bow at the back. This $1,800 piece of attire is sure to make one sassy statement!
Courtesy of BHLDN
Finally, the stunning silk layering of the Burnished Organza Gown is instantaneously eye-catching.  The sweetheart neckline is lavishly adorned with bronze sequins. This simple yet elegant garment is stunning and one of the more affordable dresses in the line, retailing at only $1,400.
The first glimpse of what BHLDN has to offer has been truly delightful, and their design team has created unique and whimsical looks for brides who don't want to stick to the norm. We look forward to seeing what else these trailblazers have to offer!
Peace,
Meredith